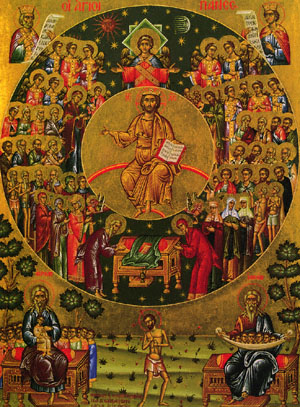 Andrew of Crete Author of the Great Canon
July 4
Reading:
Saint Andrew was from Damascus; his parents' names were George and Gregoria. He became a cleric and secretary of Theodore and Patriarch of Jerusalem; from this, he is called "the Jerusalemite." He was present at the Sixth Ecumenical Council in Constantinople, which was convoked in 680 during the reign of Emperor Constantine IV (668-685). He became deacon of the Great church in Constantinople, that is, the Church of the Holy Wisdom of God, then Archbishop of Crete. He reposed in 720 or 723. Beside his other sacred writings, he also composed various hymns, among which is the famous Great Canon, which is chanted during Great Lent (see the Thursday of the Fifth Week of the Fast).
Apolytikion in the Fourth Tone
The truth of things hath revealed thee to thy flock as a rule of faith, an icon of meekness, and a teacher of temperance; for this cause, thou hast achieved the heights by humility, riches by poverty. O Father and Hierarch Andrew, intercede with Christ God that our souls be saved.
Kontakion in the Second Tone
While trumpeting forth the songs of God with clarity, thou also didst prove a blazing light for all the world, O most righteous Andrew, who shonest with the light of the Trinity. Wherefore, we all cry out to thee: Cease not to entreat the Master for us all.
Reading courtesy of Holy Transfiguration Monastery
Apolytikion courtesy of Holy Transfiguration Monastery
Kontakion courtesy of Holy Transfiguration Monastery
Strict Fast
Wine and Oil Allowed
Fish Allowed
Dairy, Eggs and Fish Allowed
Fast Free