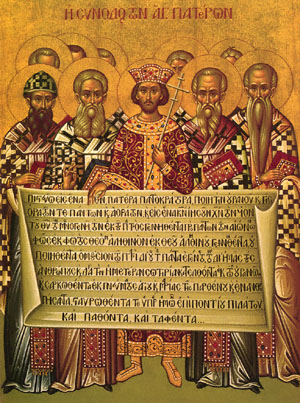 Sunday of the Holy Fathers
Tone of the week: Tone Two
Third Eothinon
Reading:
On the Sunday that falls from the 13th to the 19th of the present month, we chant the Service to the Holy and God-bearing Fathers who came together in the Seven Ecumenical Councils, that is: the First Council, of the 318 Fathers who assembled in Nicaea in 325 to condemn Arius, who denied that the Son of God is consubstantial with the Father; the Fathers of the First Council also ordained that the whole Church should celebrate Pascha according to the same reckoning; the Second Council, of the 150 Fathers who assembled in Constantinople in 381 to condemn Macedonius, Patriarch of Constantinople, who denied the Divinity of the Holy Spirit; the Third Council, of the 200 Fathers who assembled in Ephesus in 431, to condemn Nestorius, Patriarch of Constantinople, who called Christ a mere man and not God incarnate; the Fourth Council, of the 630 who assembled in Chalcedon in 451, to condemn Eutyches, who taught that there was only one nature, the divine, in Christ after the Incarnation, and Dioscorus, Patriarch of Alexandria, who illegally received Eutyches back into communion and deposed Saint Flavian, Patriarch of Constantinople, who had excommunicated Eutyches; the Fifth Council in 535, of the 165 who assembled in Constantinople for the second time to condemn Origen and Theodore of Mopsuestia, the teacher of Nestorius; the Sixth Council in 680, of the 170 who assembled in Constantinople for the third time, to condemn the Monothelite heresy, which taught that there is in Christ but one will, the divine; and the Seventh Council in 787, of the 350 who assembled in Nicaea for the second time to condemn Iconoclasm.
Resurrectional Apolytikion in the Second Tone
When You descended unto death, O Lord who yourself are immortal Life, then did You mortify Hades by the lightning flash of Your Divinity. Also when You raised the dead from the netherworld, all the Powers of the heavens were crying out: O Giver of life, Christ our God, glory be to You.
Resurrectional Kontakion in the Second Tone
You rose from the tomb, O Savior all-powerful, * and Hades beheld the marvel and was struck with fear, * and the dead were rising up, and creation beholds and rejoices with You, * and Adam is also exultant; O my Savior, and the world ever sings Your praise.
Seasonal Kontakion in the Plagal of the Second Tone
O Protection of Christians that cannot be put to shame, mediation unto the creator most constant: O despise not the voices of those who have sinned; but be quick, O good one, to come unto our aid, who in faith cry unto thee: Hasten to intercession and speed thou to make supplication, O thou who dost ever protect, O Theotokos, them that honor thee.
Reading courtesy of Holy Transfiguration Monastery
Resurrectional courtesy of St. Gregory Palamas Monastery
Resurrectional courtesy of St. Gregory Palamas Monastery
Seasonal courtesy of Holy Transfiguration Monastery
Icon courtesy of Theologic Systems
Strict Fast
Wine and Oil Allowed
Fish Allowed
Dairy, Eggs and Fish Allowed
Fast Free